Who was Orlande de Lassus?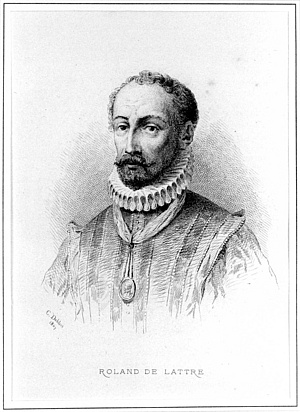 Orlande de Lassus, perhaps the most significant, in any case the most successful and most famous composer of the second half of the 16th century, worked at the Munich Court from 1557 until his death on June 14th, 1594 – initially as singer and composer, later as Hofkapellmeister (Maestro di Cappella at Court).
For the first time in history, he made Munich a city of music of European dimensions. His contem­pora­ries called him Princeps Musicorum (Prince of Musicians), testifying to the high esteem Orlande already enjoyed in his own time.
Orlande de Lassus. Portrait by Charles-Alphonse Deblois from Félix Clément, Les musiciens célèbres, Paris 1867
| | |
| --- | --- |
| 1530 or 1532 | born in Mons (today's Belgium). |
| 1544 | he is abducted from a choir-boy boarding school in his home town (not an isolated incident in those days) and travels to Palermo and Milano with the imperial general and Viceroy of Sicily, Ferrante Gonzaga. |
| 1549 | he moves to Naples, staying there for about three years. |
| 1551–1554 | (before even turning twenty, he becomes Kapellmeister (Maestro di Capella) in Rome at S. Giovanni Laterano (and thus predecessor of his equally famous contemporary Palestrina). |
| 1556 | he arrives in Munich. |
| since 1557 | he is a singer and composer at the Court (earning a higher salary than Kapellmeister Ludwig Daser) and |
| since 1562/63 | Hofkapellmeister (Maestro di Capella at Court). |
| 1566 | Samuel van Quicchelberg publishes a biography of Lasso in the Prosopographia heroum atque illustrium virorum totius Germaniae, printed in Basel. |
| 1567 | de Lassus purchases his first Munich residence in the Graggenau, today's Platzl. This will not remain the only real estate owned by him. In 1582 he purchases a second residence at the Platzl; he owns estates in Schöngeising, Putzbrunn etc as well. |
| 1570 | he is ennobled by Emperor Maximilian II. |
| 1571 | he receives a personal printing privilege for France by the King Charles IX. In 1581, Emperor Rudolf II. grants him a personal imperial printing privilege for the empire. Thus, he is one of the first musicians involved in the beginnings of the personal copyright. |
| 1575 and 1583 | he wins prizes at the composer contest in Evreux. |
| 1590/91 | he presumably suffers a stroke. |
| on June 14th, 1594 | he dies in Munich and is buried in the cemetery of the Franciscan monastery. |
| 1604 | his sons Ferdinand and Rudolph publish a kind of complete edition of his motets, which eventually becomes the base of the Edition of Motets in the first publication of the (today so-called) Alte Gesamtausgabe. |
Wide-Ranging Body of Work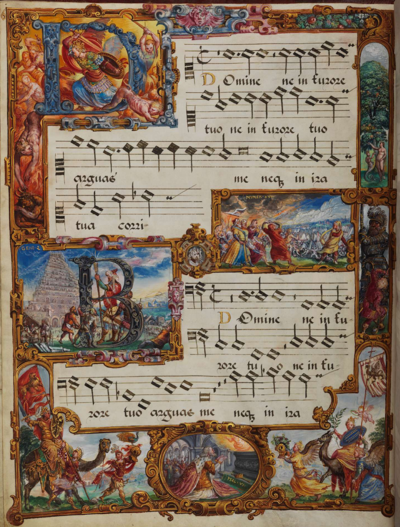 Lassus left behind about 1360 works: He composed more than 500 motets — plus about 175 madrigals and other compositions with Italian text — about 150 French chansons — close to 100 German songs and psalm settings — 70 masses are attributed to him (although some are verifiably known not to originate from him; with quite a few, his authorship is not clear since they are transmitted under different names as well) — more than 100 Magnificat — four passions — as well as many smaller church compositions such as chants for the Mass Proper or hymns. One of Lassus' specialties are cycles like the Prophetiae Sibyllarum — the Psalmi Davidis Poenitentiales (transmitted in the two volumes of an elaborately illustrated choir book, today in the care of the Bayerische Staatsbibliothek) — the Lagrime di San Pietro (Lasso's swan song) — plus Christmas Lessons, Lessons from the biblical Book of Job (set twice by Lasso) as well as Lamentations of Jeremiah.
Characteristics of his Composing
Lassus had all the stylistic means of his time at his disposal. A crucial phenomenon frequently observed regarding his composing, is his blend of various styles und techniques within within one and the same work he emphasizes contrasts in the sense of "varietas": Sophisticated imitation (especially in two and three voice passages) is set next to a block-like homophonous style of composition; reciting a text on long note values contrasts with phrases to be sung fast; syllabic declamation and wide-spanning melismatics may contrast each other; an extremely high range may be set against a very low vocal range; expressively structured parts are set synchronously with calmer ones, etc. In light of these findings, musicologist Horst Leuchtmann attested an "inspired madness" to Lassus' music.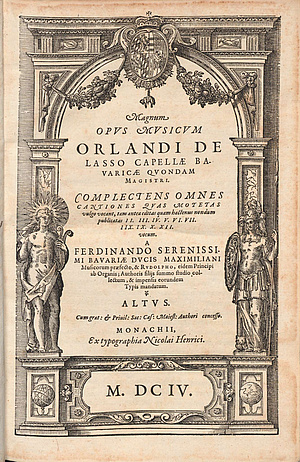 He rarely used chromaticism, but when he did, he used it decidedly in bold fashion, as in his Prophetiae Sibyllarum or in one of his most beautiful pieces, the Motet Anna, mihi dilecta, veni.
Stylistic diversity serves often the interpretation of the words, something Lassus was highly regarded for among his contemporaries (theoretician and composer Michael Praetorius gives him praise for this).
In addition, he often transcended the stylistic boundaries of contemporary genres. Motets e.g., show time and again stylistic devices from the madrigal: In madrigals, words are usually set in a way much based on affect; in motets, "madrigalisms" intensify the interpretation of words. He also composes German Lieder according to simple French or Italian settings. Thus, he actually became a pioneer in the internationalisation of musical style toward the end of the 16th century.
Lassus is by far the most printed composer of his time. 1200 of his about 1360 works are transmitted in more than 480 preserved contemporary printings from the years between 1555 and 1687. Some of his works have been printed and published more than 30 times, many about twenty times. (A bibliography by Horst Leuchtmann und Bernhold Schmid: Orlando di Lasso. Seine Werke in zeitgenössischen Drucken 1555 – 1687, 3 Bände, Kassel usw. 2001, describes the printings). Besides the prints, there is also an almost unmanageable number of manuscripts with his music (cf. the database Orlando di Lasso: Seine Werke in handschriftlicher Überlieferung lasso-handschriften.badw.de
Famous to the Present day
Musicians and musicologists first started to address Lassus' music in the middle of the 18th century, proven by scores from this time. Yet, his work was rediscovered on a broad scale only in the early 19th century, when church music from the 16th century was regarded the perfect liturgical music. In the course of the German Youth Movement at the onset of the 20th century, various secular compositions have been edited for amateur choirs, often with the text translated into German. During the last 50 years, based on the growing interest in early music, vocal ensembles dedicated to historically informed performance practice, took on Lassus' music and presented a number of excellent CD recordings.